Filter by Category
Wellness Workshops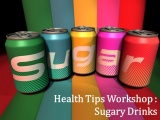 Health Tips Workshop: Sugary Drinks
with Joy Gagnon

Current session started Oct 1, 2020 at 7 pm
Sugary drinks:
Sugar is so common in everything we eat and drink, but how much is too much? We will look at drink labels and figure out how much sugar it has, and how to reduce the sugar you consume.
This class was made available through the collaboration with community partner UNH Cooperative Extension. 
Workshop Access: upon registration you will be emailed zoom link 
About Your Instructor
Joy Gagnon teaches income eligible families, seniors and youth how to make lifestyle changes for better health.  Joy received a Bachelor's degree in Nutritional Science from UNH and has worked with Nutrition Connections since 2012. Her work includes nutrition education programs in schools, healthy living programs for adults and families, and partnering with other community health organizations such as the local public health initiatives, wellness committees, and food pantries throughout the county. Joy's Slow Cooker program has been very successful and has provided slow cookers and meals for individuals and families all over Carroll County through partnerships with the local rotary, hospital, and food pantries. This program and many others help participants save money while making healthy lifestyle choices.