Filter by Category
Yoga
Prenatal Yoga with Renee
with Renee Bernier-Innes
Come join Renee Bernier-Innes in a special class to promote health and wellness during one of the most special times of your life. 
Prenatal yoga focuses on poses for pregnant women, in order to increase strength and flexibility. It helps expecting mother's to develop proper breathing and relaxation techniques for an easier and more comfortable labor.

It can also help with:
better sleep
reduced stress
less discomfort throughout pregnancy
This class is suitable for all levels whether you are brand new to yoga or a practiced Yogi this class is tailored to the needs of your changing body.
This 6-week class will be held on Wednesday mornings from 10-11am in The North Conway Community Room which is located on the 2nd floor of the Outpatient Physical Therapy Building (just north of the main hosital entrance). Please PARK and ENTER at the rear of the building, not through the physical therapy practice on the first level.
Class Dates: Oct 30, Nov 6, Nov 20, Nov 27, Dec 4 Note: there is no class on Nov 13.
Drop ins are welcome for $12
Instructor Bio:
Renee is the owner and founder and Sacred Circle Wellness,  she moved to the Mt. Washington Valley in 2017. She graduated from Western State Colorado University with a Bachelor's in Exercise and Sport Science and Experiential Education. Prior to finishing her degree she completed an 800 hour Therapeutic Bodywork Certificate through Mountain Heart School of Bodywork. She became a Licensed Massage Therapist in Colorado and has been practicing since 2015.

Her further education has consisted of prenatal, postpartum and fertility techniques. She is a full spectrum doula and a registered yoga teacher. She is passionate about women's health and believes healthy mothers and families are the foundation for healthy communities.
Ayurvedic Yoga Blend with Christie Ann
with Christie Ann Rochette
Join Christie Ann for a gentle flow style yoga perfect for all abilities. 
Ayirvedic Yoga Blend looks at Yoga through the lens of Ayurveda, so it incorporates a few different styles of Yoga into one practice that results in balance for all body types in a group setting.

Typically, there is a blend of Pranayama (breath work) while centering and grounding, Yin Yoga or stretching postures to open up, warm-up, Vinyasa Yoga Flow to create heat, cool down, and a Yoga Nidra meditative body scan before a Savasana (supine position.)

This is available for all levels of students from beginner to advanced!
Classes will be held on Thursday evening from 5:30-6:30pm on November 7, 14, 21, Dec 5, 12 and 19 (no class on Thanksgiving Nov 28)
Instructor Bio: Christie Ann Rochette
Training: Ayurvedic Yoga Specialist, 500 + Certified Yoga Instructor, ChildLight Yoga trained, Chair Yoga Teacher, Trauma Informed Instructor, Wilderness First Aid + CPR certified
Note: Currently enrolled in an advanced 300 hour Ayurveda & Yoga Teacher Training, including Thai Yoga Bodywork, Restorative, and Yin Yoga immersion certifications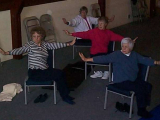 Chair Yoga
with Christie Ann Rochette

Next available session starts Jan 7, 2020 at 1 pm

, runs for 4 weeks
For Conway Senior Pines Residents Only/Healthy Aging Participants 55+
Everyone can benefit from this class that uses the support of a chair to move through strengthening and stretching movements.
This is a gentle yoga practice, focused on breathing and moving mindfully. If you can breathe, you can do yoga!
Please call Heather Phillips to register, 603-356-5461 x2187.