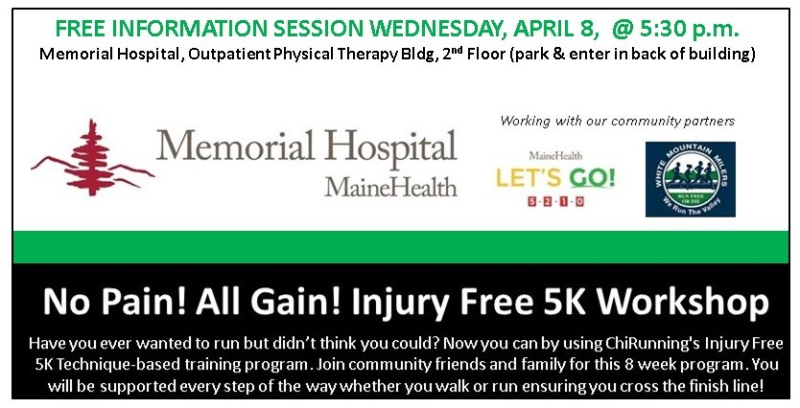 ChiRunning/Walking FREE INFO SESSION No Pain? All Gain! Injury Free 5K Program
with Vince Vaccaro
Free
Free Information Session To Learn More About ChiRunning and ChiWalking!

ARE YOU A RUNNER? ChiRunning has helped thousands in reducing and preventing injuries, while decreasing recovery time. Runners of all ages and levels have improved their efficiency and performance, and now find their running to be pain-free, easier and more enjoyable.

ARE YOU A WALKER? You will learn to blend walking with the movement principles of T'ai Chi to create balance and strength, to improve overall health, and to manage stress. Walking is such a basic, everyday movement, and when you improve the quality of how you walk, you'll improve the quality of your life.

The 8-week session starts on April 15!  Have you ever wanted to run but didn't think you could? Or maybe you want to be able walk for as long as you like!! Now you can with our Injury Free 5K Program. In a matter of 8 weeks you will be running (or walking) across the finish line. Join 15 year ChiRunning Master Trainer, Vince Vaccaro lead you through an 8 week No Pain? All Gain! Injury Free 5K Program.  
Class meets once a week; you will be given additional workouts to be completed on your own and instructor will provide check in & tracking.
Cost includes entry into The Tunnel To Towers 5K Run & Walk on Saturday, June 6, 2020 in Schouler Park. See details
ALREADY KNOW YOU WANT TO REGISTER FOR THE 8-WEEK WORKSHOP, CLICK HERE: 
https://endurancecui.active.com/new/events/66473651/select-race?_p=9022738516614652.
Class will meet in the North Conway Community Room located on the 2nd floor of the Outpatient Physical Therapy Room. Class will gradually move outside to trail and pavement. Why ChiRunning? Simle, it's injury-free and pain-free. ChiRunning is based on movement principles of T'ai Chi, but you don't need to know T'ai Chi to ChiRun. All you need to know is how using your core can transform your running.
Chi (pronounced "chee") is the energy that unites body, mind, and spirit.Energy moves from your core (also known as your "center" or "dantien") into the limbs to create movement.
Engaging your core and relaxing your limbs allows your legs to simply support your body weight instead of pushing or pulling it forward.
When your structure is aligned and your muscles and joints are relaxed, chi can flow freely through the body, making running feel effortless
More Questions? Contact...
Vince Vaccaro, Master ChiRunning Instructor
ChiNewEngland@gmail.com    | 603-520-8268
OR
Heather Phillips, Community Health Program Manager, Memorial Hospital
hphillips@memorialhospitalnh.org  | 603-356-5461 x2187 
ChiRunning/ChiWalking Free Info Session :

Apr

8th

,

2020

Wed

for

1 week

from

5:30 - 6:30 pm
North Conway Room - 2nd Floor, PT Building
3076 White Mountain
North Conway, NH 03860 Get directions